Dubai Artificial Grass
Daisylandscapes is an artificial grass supplier in Dubai providing a range of fire-resistant, weatherproof, UV-protected, Minimum care and maintenance artificial grass. Our entire collection has a wide range of designs, color combinations, patterns, and sizes to meet diverse preferences of artificial lawn needs. If you want to give your indoor spaces, living spaces, field a look of a natural grass, daisylandscapes is the one stop solution for all your evergreen artificial grass carpets in Dubai.
Daisyalandscape makes sure that you get the best evergreen artificial grass carpet for your property and never compromise with the quality of artificial grass products. Our premium quality products have UV defender coating  and they never loose the green color and feels like real grass or natural lawn. Synthetic grass products are cost effective and best for everyday life. Our products are durable for any weather conditions in Dubai. Wheter it is wet season or winter season, it is an educated choice to opt for environment friendly artificial grass Dubai.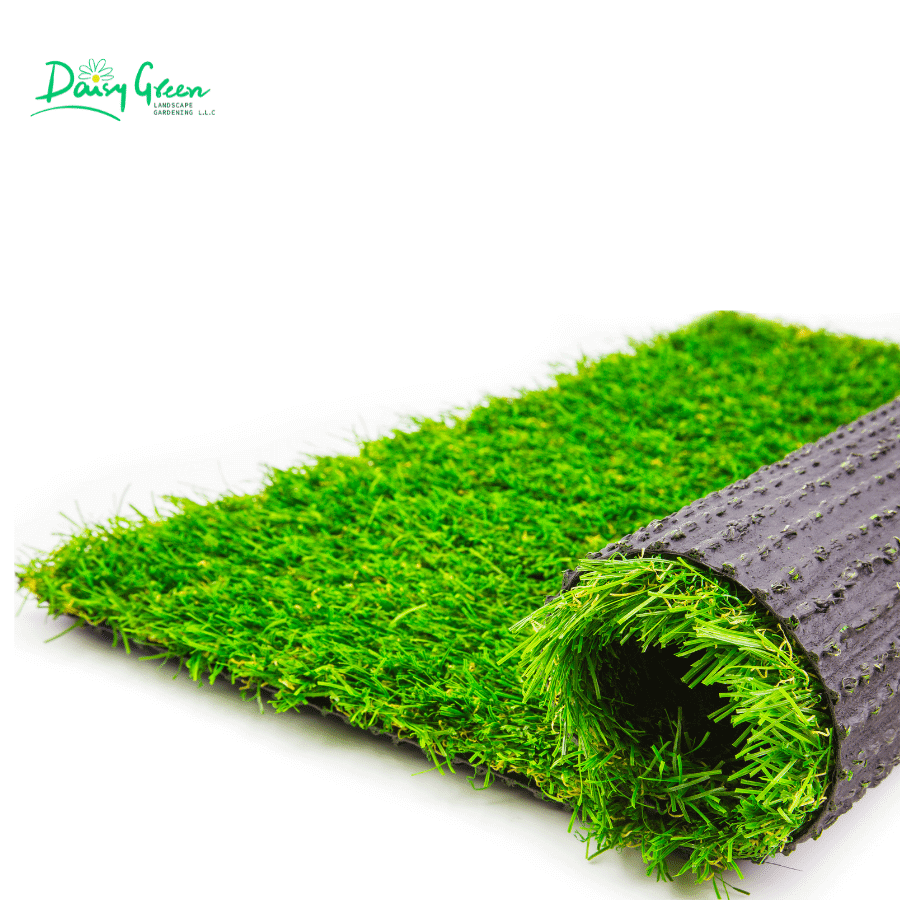 Artificial Grass Installation Dubai
Whether you are looking for a cost-efficient artificial grasses installation for a small garden or a large lawn – DaisyLandscape provides best services at the competitive prices.
Daisylandscapes is the premium artificial grass supplier in Dubai. Providing fake grass products for landscapes, sports turfs, field, Home interiors, walls, gardens, lawns, hotels, restaurants, interiors, and trade shows at reasonable prices in Dubai. Daisylandscape ensures to use of selected synthetic turf grass in your space. We have our devise method that provides lasting grass cover. When we cover your place, we take care of the aesthetics to deliver a 100% satisfactory outcome. We guarantee our product will keep on beautify your home for the year to come.
Price of Artificial Grass Dubai
We have an exotic range of quality synthetic grass ranging from 25 mm to 45 mm. The price ranges from 70AED to 120AED per square meter in Dubai. Furthermore, it depends upon the type of grass you want. Daisylandscape has an exotic range of artificial grass turf in Dubai.
Before we start the installation process, we keenly listen to your wish and proceed to obtain the proper measurements for installing the grass turf accurately. There will be a detailed session about the installation area, and we also discuss the whole process of grass installation, maintenance, and care. We also keep in mind details like Drainage requirement, Ground stabilization, Creative edge finish, access, wear and tear, artificial grass softness, and durability.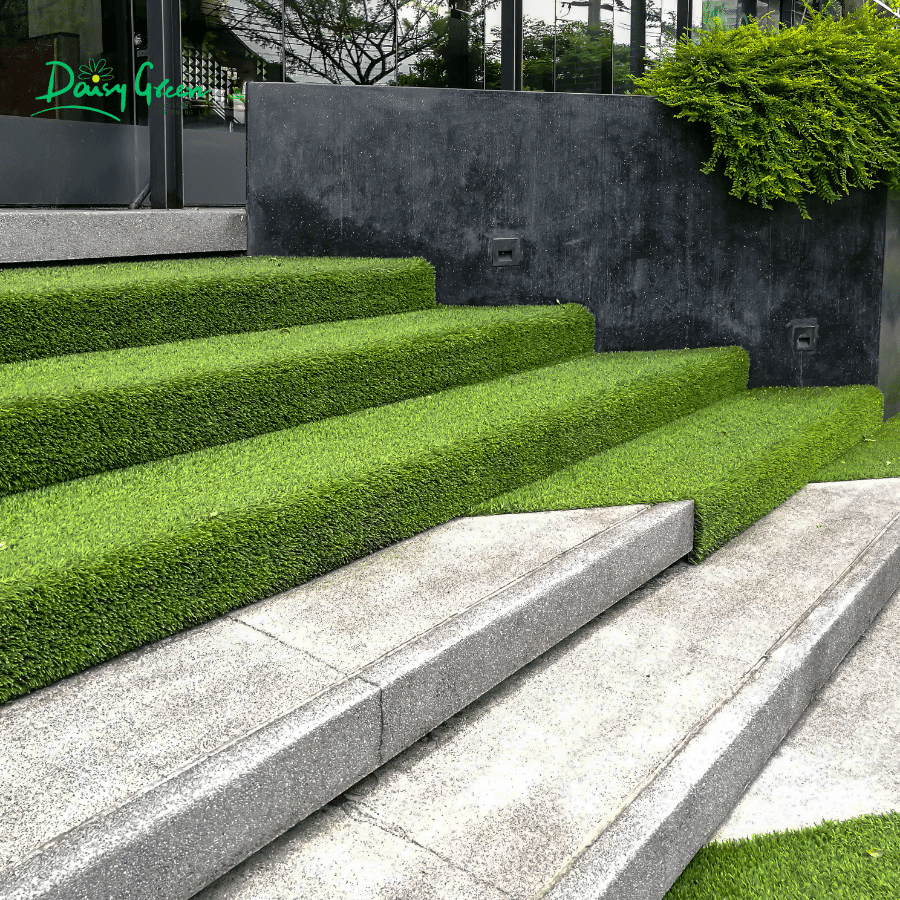 Garden maintenance involves considerable toil and is hectic as well. So, the need for smart investment in artificial grass has soared up. We provide 100% safe and durable plastic and synthetic grass cover that will freshen your garden.
FAQ About Artificial Grass
What is the price of Artificial Grass?
Artificial Grass price ranges from 70AED to 120AED per square meter in Dubai. Furthermore, it totally depends upon the type of grass. Daisylandscapes helps you to choose from a variety of grasses that fulfills your requirements at an affordable price range.
Can You Lay Artificial Grass On Slopes?
We cover all types of slopes if those are aesthetically good. Our team has over a decade of experience in installing artificial grass on all types of surfaces, field or wherever it is feasible.
Is Artificial Grass Skin Friendly?
Yes, artificial grass is totally skin and child-friendly. We us permeable soft Skin–Friendly garden polypropylene which prevents skin abrasions compared to the low quality artificial grass used by others.
How much time does artificial grass takes to settle?
It usually needs 6-8 weeks after the installation is done. However, it takes longer during the winter months. Furthermore, it is better to keep off from the turf for around 24-48 hours to prevent any damage.
Does Artificial Grass Require Maintenance?
It does not require any maintenance. However, if there is a need for cleaning the dust or any other substances from the grass, normal watering will clean it effortlessly.
Daisylandscapes provide some extra benefits:
Artificial grass means a one-time investment and needs to be done perfectly once for all. It will save you money, time, and effort in the long run. Daisylandscape provides reliable service and ace others because:
We use durable and low maintenance artificial grass.
Daisylandscape provides beautiful, soft grass.
You do not need to worry about waiter drainage systems
We use chemical and lead-free grass which is safe for pets.
So, you should not wait to give an exotic look to your space? Contact DaisyLandscape Gardening LLC now for a fantastic deal on Artificial grass in Dubai. let us mesmerize your areas contact us now!
Get Best Quality Artificial Grass in Dubai
Contact Us to Get a Free Estimate