Garden Design & Maintenance in Dubai
Daisylandscape provides affordable garden design and maintenance services in Dubai. Our garden design and maintenance service is tailored to fit Dubai's taste and lifestyle. Whether you're looking to design a beautiful garden or you're aiming for a beautiful lawn, you are in the right place. Daisylandscapes is known among the best garden maintenance companies in Dubai by providing cutting edge garden design and maintenance services.
Garden Designing in Dubai does not have to be hard. You just need to figure out which garden design layout you need, and Daisylandscapes will transform your garden with the creative standards of garden design solutions.
We are one of the leading commercial and residential garden maintenance companies in Dubai. We are committed to providing our customers with comprehensive gardening services at an affordable price.
Best garden maintenance services in Dubai
Gardening Services in Dubai
Our garden designing process starts by listening to you, understanding your needs, and working towards your dream project. We don't believe in cutting corners but paying extra attention to details. Every garden is unique and demands a special design. We evaluate your garden and collaborate your ideas with ours to create an eye-catching design. That is why we are known for the best garden design Dubai service provider.
1. Consultation
The design process starts with a detailed consultation. Our expert designers will visit you and discuss all the details of your garden. Things to discuss at the meeting are:
How do you want to design your garden?
What is your main aim?
What enhancements are you looking for?
What's your budget and timeline?
2. Estimating Design Needs
The next step after consultation is to estimate the project. It will include all the changes you need to make, additional designs, regular catch-ups to meet your goals. After signing a proper contract, we will schedule your project.
3. Permitting
We will take care of all the permissions as per the regulations of the local government in order to design the garden. We always adhere to the policies set by the local area administration of municipal departments. At Daisylandscapes, We ensure all the garden design changes are as per the municipal standard.
Stormwater Management
Grading and managing stormwater are the two main essentials to consider when designing a garden. We will incorporate a design while considering all the technical details.
5. Designing the garden
Then begins the designing process. We will have regular meetings for you to see if we are progressing as per your needs.
6. Maintenance of the garden
The thing that distinguishes us from others is that we believe in maintaining your garden. We believe in maintaining what we create with immense hard work. It will keep your garden top-notch and tip-top all the time.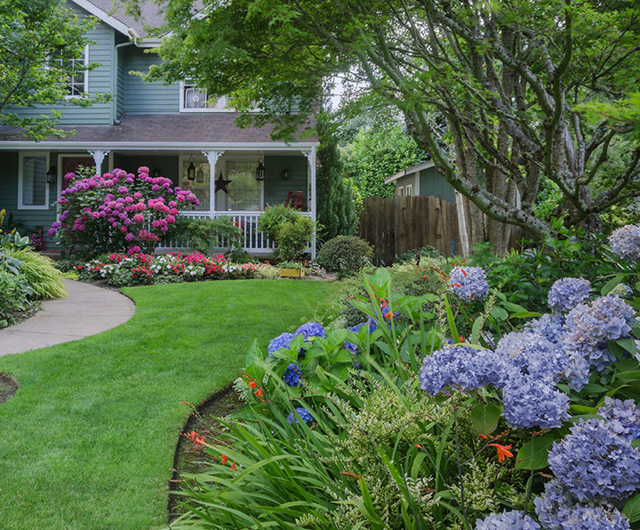 Garden Maintenance Services in Dubai
Garden maintenance in Dubai gets hard due to our busy lifestyles, we do not have the time to look after our garden spaces when it comes to maintaining it. Daisylandscapes provide design and maintenance of your home and commercial garden spaces in Dubai with affordable pricing.
We provide on-time services promptly without any delay. Our services are meant specifically to save time and effort. You can simply book an appointment with our team and let us handle all your gardening issues. We can take care of the following areas:
Lawn mowing and hedge trimming
fertilizing and reseeding, and other lawn care
Manual weed removal control
chemical weed control
Leaf clearance and general tidy-up
Planting, replanting and flower bed care
Green waste removal
Pruning of small trees, bushes, and shrubs
Hedge trimming and ivy pruning
In addition to these services, we will have extensive sessions with you to discuss all your needs and preferences.
Work Execution Process
The process will proceed exactly as per your convenience. Our team will visit your place, survey the area and inspect the place for the next step. The maintenance of your garden is a continuous process, for best results you should do it at least monthly. We keep you updated about the status of your garden, the soil health, trees, and plant growth is always tracked. All you have to do is sit back and relish your garden. We are in charge of your deadheading, never-ending weeding, staking, light pruning, and monitoring insect problems. We use the best equipment to keep your garden healthy and in good shape. Trust our services once and you will surely come back again!
Get Started to Design Your Dream Garden With Us
Contact Us For Field Examination and a Free Estimate