A luxury maintained is an asset earned; besides serving for a long time, it acquires a worth exceeding its incumbent value. Among the various amenities that a modern man possesses, private swimming pools are necessary to bring recreation and family weekends to home. Here is a guide by Daisylandscapes, the best swimming pool maintenance company in Dubai to help pool maintenance and care.
What is The Need For Swimming Pool Maintenance?
Pools are a source of recreation. Especially on summer days, swimming and laying afloat represent an excellent way of beating the scorching heat while enjoying a quality time to cherish with your family or friends. For such experiences and to be healthy for you, pools need to be appropriately maintained to be worth the dip. For this purpose, it is essential for pool owners to understand what harms these luxuries and, in turn, restricts the fun from lasting. Let's take a quick dive.
The deteriorated quality of water that results after each swimming session.
The accumulation of impurities that float and sink with time only to accumulate at the bottom of the pool.
The organic growth and multiplication of microbes make the pool reek of disease.
The budding and proliferation of algae and rhizomes render the surface slippery for the swimmers to trip.
The rooting of plant life penetrates the pool surface resulting in cracks with time.
As lenient as we might have been to these threats until now, no time is late enough to adopt the right maintenance measures for pools to serve you better. We must understand how we can address them so that they help us for long, fruitfully.
Swimming pool Maintenance Routine
Just like any other practice of keeping your utilities clean and hygienic, demands daily, weekly, and monthly address. Let's address them individually
Daily Pool Maintenance
Here are the daily practices to maintain a fresh and hygienic swimming pool:
The skimming of leaves: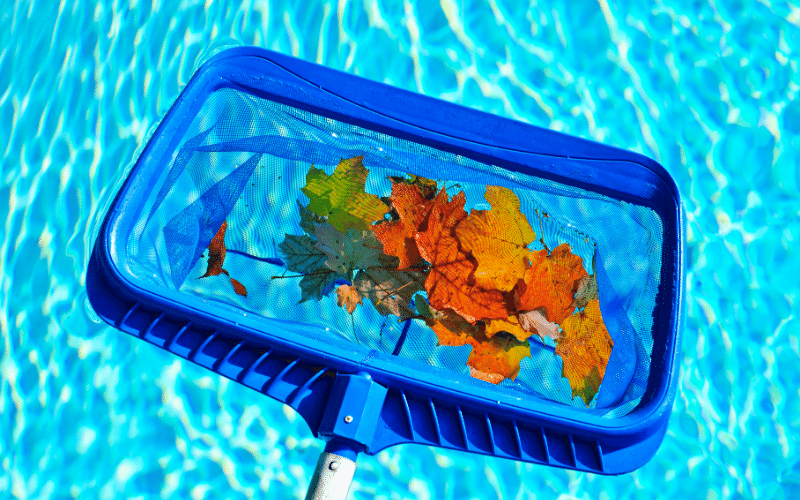 floating debris that are easy to remove before they settle at the surface results in blockage of the sink. The main draw and filters apart from causing discoloration of the pool walls and floor. Skimming can be achieved using a long-handled leaf skimmer that can quickly gather leaves, insects among other floating debris in the pool.
Circulation of water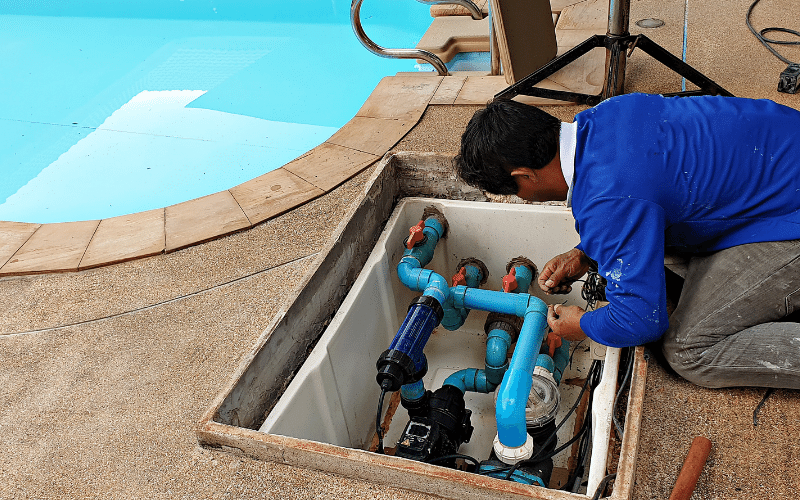 A combination of a skimmer, pumps, boilers, inlet channels, and filters undertake the process of circulation via a step by step pump-driven mechanism. About 70% of the pool water is allowed to pass through the skimmer. 30% must be vented from the main draw. Water circulation must be done every day for 12 hours in summers and 4-6 hours in winters. Water circulation is a primary step towards the longevity of pool life in general. It employs four steps:
Skimming
Pumping
Heating
Filtering
Water Quality Check
Besides, on a daily scale, as a pool owner, it is your responsibility to check the quality of water in it, mostly if the pool entertains an inrush of swimmers. Pool owners must check two parameters for that purpose:
The pH level of the water must be maintained at seven, i.e., neutral.
To check the favourability of pathogens to develop in it.
Swimmers bring along associates in the form of allergens, microbes, and due to their body fluids that render the pool water unhygienic and prudent to be renewed. Knowing you have an audience the day after, we must maintain the pool water quality daily.
Weekly Pool Maintenance
The next practice to adopt is the weekly brushing of the pools' walls to disburse the algae and plantlets. Preferably, this debris matter should be directed towards the main draw so that vacuuming becomes easy later on.
Filters that form the part of the pools' water circulation must also be cleaned every week to perform its function exhaustively.
Applying disinfectants and sanitisers weekly also helps to keep diseases away while maintaining vigor and transparency.
Vacuuming the pool is the next habit to be employed at maintaining the pool's health. We should execute the process weekly immediately after the following brushing. We should adopt either an automated cleaner or a manual one for this. Automatic vacuum cleaners exist in 3 forms:
Robotic
Pressure
Suction
Automatic Vacuum cleaners need to be just plugged in and set free in the water while a manual pool cleaner is operated only as a lawnmower to clean the sediments at the bottom, particularly the ones concentrating towards the main draw
Yearly Pool Maintenance
Besides the concerns mentioned above that imply immediate attention, every pool needs yearly repairs and replacement to make it function longer. Among such practices to be adopted, renewing the sand filter representing the mechanical cleaning is essential. It is wise to replace the sand every 6-8 years.
Understandably, these tasks need to be addressed to ensure the longevity of your pools. After all, things well-tended only to last longer and serve better.
Contact Daisylandscapes for all swimming pool maintenance and repair in Dubai.